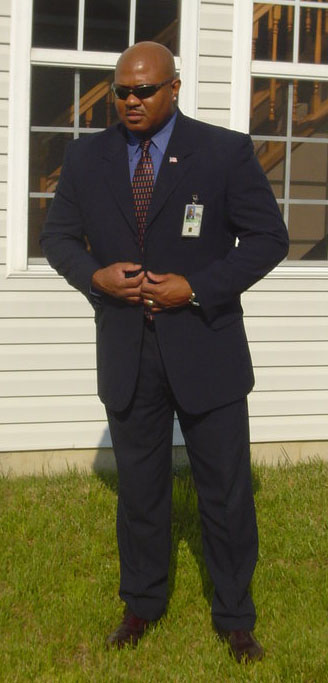 My name is Thomas "Mitch" Mitchell. I am the owner of Comfort Zone Security, Protection and Investigations LLC; we are based out of St. Charles, Missouri. Comfort Zone Security, Protection & Investigations, LLC was founded in 2006 and has been providing contract support services to customers nationally since.
I hold a Top Secret Government clearance. I served a total of 13 years in three different branches of the military: U.S. Army, U.S. Air Force National Guard and U.S. Air Force Reserves. I worked in three prisons as a correctional officer/sergeant. I am a former Global Protection Air Force Phoenix Raven, a Former Memphis Police Officer and Detective, a former Federal Air Marshall, and a former member of the President of the United States and Vice President of the United States of America protection teams and a current Armed Security Officer (ASO) for the Transportation Security Administration. I recently retired as a Lieutenant on the Moscow Mills Police Department. I am a State of Missouri Licensed Private Investigator. I serve and have a membership on numerous security and law enforcement organizations. I have written several articles relating to security and protection; I have been hired by news stations to be filmed and to walk around different parts of cities to provide information relating to vulnerabilities and crime patterns throughout that city.
I'm a Top Rated Specialist in intelligence based executive protection High and Low profile operations. I am listed as a subject matter expert in my field by the security industry and standards. I hold a degree in criminal justice and a paralegal certificate. I bring a lot of experience and expertise to my craft and profession. I have attended numerous academies and training courses, and numerous schools relating to security and protection. I have taught and lectured at numerous law enforcement agencies, businesses, town house meeting and corporate retreats. I have lectured at the National Conference on preventing crime in Washington DC.
I have worked in all aspects of the security field including Executive Protection, Celebrity Protection, High Profile operations, Low Profile operations, Venue, Concerts, Events, Press Junkets, Premier Red Carpets and Residential security. I have worked as a Solo Bodyguard for both "A" list Entertainment Professionals and Fortune 500 Executives. I specialize in armed and unarmed low profile operations. Some of the other services that our company offers are executive/dignitary protection and security for clients and their family members. We provide protection and security to and from venues; at arrivals and departures; temporary and permanent residences; public places; social gatherings; and family vacations. We also travel with clients aboard airlines to and from engagements. We provide contract security personnel for private facilities, public facilities, sporting events, aviation customers, municipalities, conventions, theaters, public schools, universities, apartment and condominium complexes, commercial businesses, offices, government facilities and special events such as weddings, parties, family vacations, film crews and production teams, and social events.
Comfort Zone Security is available 24/7. We are on call around the clock to provide exceptional service and to take care of any emergency situations. We deploy licensed trained security agents to conduct hourly foot patrols, alarm responses, personal bodyguards, and mobile patrols. We also have an agreement with the local city, county police and sheriff departments that allow us to alert them in any major events garnering a response from them in a matter of a few minutes.
Comfort Zone Security has an A+ rating at the Better Business Bureau (BBB). Comfort Zone Security has been featured in the USA Today, New York Times and the LA Times.
"An ounce of prevention saves a pound of cure." Benjamin Franklin
Thomas "Mitch" Mitchell
Office: 636-887-1131
Email: [email protected]